Join Maple in Going Green
Maple Avenue was chosen as a pilot school to aid in renewing recycling in our school district and the City of Niagara Falls. We have
recently partnered with
the City of Niagara Falls' Z.O.O.M. Program, Clean Neighborhoods, and Modern Recycling to determine the best way to facilitate recycling in our district as
well as support outreach to our community.

Maple responded by creating a Green Team of Maple staff to help bring this initiative to life.
The Green Team's main initiative is to increase our recycling efforts and decrease garbage amounts into our landfills. Our students will be learning about and
participating in Single Stream Recycling in our classrooms. By bringing this environmental awareness, our goal is to practice Green Habits in school and at
home. Our new partners graciously donated an iPad and a signed Mike Weber Jersey which included 4 Sabres Tickets. These raffle tickets cannot be
bought, but earned by any Maple Avenue student. The raffle took place at the Science Fair on March 23rd,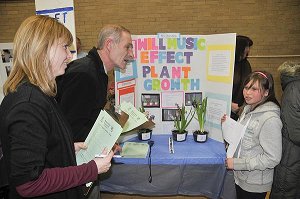 Pictured are judges Jerri Presutti, Tim Bellonte, and Maple fourth grader Gianna Conti
Photo taken by James Neiss of the Niagara Gazette
All information for Going Green, ways to earn raffle tickets, partner information and Single Stream Recycling will be taught at Maple as well as posted on this website. Click HERE to see Modern's Single Stream Recycling plant in Buffalo! (The video is on YouTube so not accessible from School from this link)
These changes in our trash routine will result in creating less waste in our landfills. This not only will save the city money, but will help make Niagara Falls a more
beautiful city to live and raise our children in.
If you are a DeVeaux resident, would like to join our efforts and support Maple? If so, print and send in this FORM to:
Maple Avenue Elementary
Attn. Green Team
952 Maple Avenue
Niagara Falls, NY 14305
Thank you in advance for all your support as we renew our commitments to recycling, reducing, and reusing to improve our school and community.