The Young Author's Club
This club aims to encourage the students of
Gaskill Prep School to enjoy writing
We will share our work with others in many
forms of publishing and media.
We will also help our group members to better their writing skills
by using the process of peer-editing.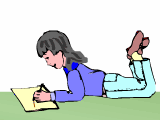 Some Helpful

Inf
ormation:
Members can write and submit as many stories, poems and other

work as they wish. We will concentrate on genres of writing that the students may have limited exposure to in class.
Members must respect copyright (do not submit/use/claim another's work as your own)
Members breaking these rules will not be allowed to submit work

to the club!