Video Websites for Teachers
There are so many sites on the Internet that contain good websites for the classroom that it is difficult to name just a few. It is important to remember, however, that videos, while they can be helpful teaching tools, should be carefully screened and incorporated into teaching units. Above all, it is very important to carefully preview all materials that will be shown in the classroom. This not only refers to the videos you wish to show. It is also important to examine the site on which these videos reside. Many times videos are surrounded by ads and other materials. Make sure that the surrounding materials are appropriate for your classroom if they will be shown. There are some tools that remove these surrounding materials and show only the videos. They do take a bit of learning, but can be very valuable.
Some teachers ask whether it is best to download the videos to their computers so when they show them, there is no downloading hesitation. Again, the question of copyright violation should be considered. While these videos are being used for solely educational reasons, this does not free teachers to download any video for use in the classroom. It might be best to check out whether a site allows downloading the videos before you do this. (We are teaching our students to be good "Digital Citizens" and avoiding the downloading of copyrighted materials is something we should both teach and practice.)
Most sites "stream" videos. This means that they "broadcast" them much as a tv station does. You can watch the videos only by going to the site and selecting a video to watch. This may, at times, be troublesome if the sites are slow or busy because there can be hesitations and delays in the presentation of the videos. Since many videos can be found on several sites, you may want to find the one which streams the fastest. Many of the video sites simply select and organize videos which are found on YouTube. If this is the case with a video you want to show, you might want to go directly to YouTube and watch the video if it downloads faster.
It is very important to select select safe materials on safe sites and there are many of them. Here are two sites which have a wealth of topics and videos. These are the ones recommended in recent emails to all teachers.

There are many good videos here. The organization is somewhat awkward, so it might be best to use some keywords to search when using this site. While this is a "school" site, you can view it from home, so you can select and plan at home.
Two Great Articles Regarding Video in The Classroom
This article is relatively new and is still very useful. There are lots of great sites here.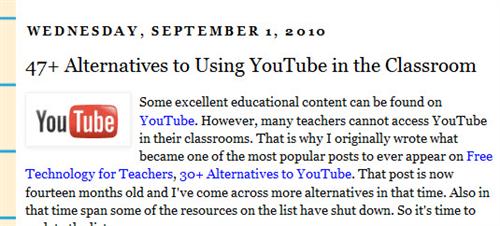 Another 2 year old article that still is of good value with many great sites; some are in the article above.
A Few of the Many Great Video Sites

There have been lots of improvements and additions to this site. It is faster and you may download some of the videos.

Avery popular site for educators with videos and more. Many of the videos are stored on YouTube,

This is another of the more popular video sites. You may set the filter to select age level appropriate videos.

There are a limited number of videos here, but they are of good quality.

This site has many videos created by teachers and students and uploaded to the site. You can create and upload videos also.

PBS offers many videos and other activities. You can select these by grade level and subject or topic.

This is a great site for videos for younger students.

Teachers and Parents
Teachers and Parents: Please note that CNN Student News is designed for use in middle and high school classrooms. It's always a good idea for teachers to preview the show before showing it to students. To learn more about how to use Student News in your classroom, click here: FULL STORY

This is a site set up as a Time Machine. You can search for videos, news, sports, music and more from a particular year. Again, it is best to carefully preview these videos because it not specifically a student site.
The Best Educational Video Sites for Teachers

RefSeek's guide to the 25 best online resources for finding free educational videos. A few are pictured above.