Using Google
How to use Google properly
as a search engine
and a whole lot more
Google is probably the most popular search engine on the Internet. Its popularity and ease of use has made it the search engine most students use when searching for information and doing research. However, there is a great deal more to searching for reliable information than just opening Google and typing in a few words. Both we,as teachers, and our students need to understand and use the proper searching techniques in order to find proper, reliable information in the most efficient way. It is a learning process. On this page you will find many suggestions, hints and even tricks that can help you and your students in this process.
Setting Your Preferences for Google
Google does allow you to set up your searches in various ways. This can be done by going to
http://www.google.com/preferences
. It may seem a bit strange going to a website to set up your computer's search preferences, but this is how Google does it now. The Safe Search should be turned on if any children will be using Google on your computer. You can tailor the other preferences to your likes. Be sure to "save" your preferences and they will stay for the computer you are using.

Saving your "History"
If you have a Google account, and they are free, you may save your searching history so you can go back and recover a search or the results of a search later.
You sign in at the Google Home page.

Go to your accounts. Then at the bottom right, you will find "other tools." Click on the history tool and you can turn it on. You are the only person who can view your searching history. You must sign in to the history each time you wish to access it.

Getting Started
Some suggestions for making your searches more efficient and successful
Google has a web document that has some very basic suggestions for making your searches easier. It might be a good sight to review with students when they are going to use Google to find information.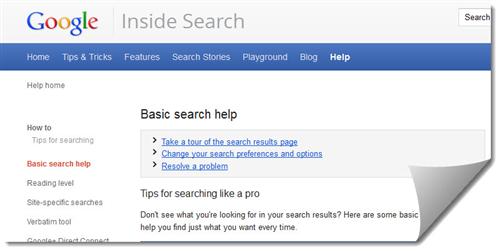 Some Hints and "Tricks" for Making Searches Easier
Google has a lot of built in "tricks" you can use to find information more easily. This Google webpage has many of them and will lead you through some examples. Take some time to review some of them, and you can save yourself a lot of time in the future.